Cat themed party game DIY – Poop toss
Looking for a cat themed party game for your kitten baby shower, your cat's birthday soirée or your feline friendly festivities? This 'poop toss' is sure to be a hit, it's easy to make and will bring a smile to the face of all your guests!
What is a kitten shower?
A kitten shower is a great excuse for a cat themed party and is usually thrown to celebrate a new cat or kitten coming home. Essentially a baby shower that you may have been to before, but for cats.
There's gifts and feline themed party decorations, food and even games. So if you're thinking about throwing a kitten shower yourself, or just looking for a cat themed game to play with the kids then we've got you covered.
How do you play this cat themed party game?
Each player uses a poop scoop to throw chocolate balls into the box. (I know I don't have to say this but feel I'm obligated to. Please use a brand new scoop and not the one from your cat's litter box 😹)
Each player gets a turn of throwing the poop with their scoop and the one with the highest score at the end wins.
There are various ways of working out a point system for your game, here are couple to get you going.
Players each have twenty seconds to see how many poop balls they can get into the targets.
Assign points to the heads and players compete to see who gets the highest score with a set amount of poops.
Materials needed for your cat themed party game
This make is really simple and you'll most likely have all the items you need to assemble it around the house.
Carboard box
Your choice of paint (I just used white emulsion left over from our ongoing house projects 😺) plus brushes
Pen or pencil
Cat head template which you can find below, otherwise you could draw freehand
Craft or Stanley knife
To play the game you'll also need some chocolate balls (we used Maltesers) and a couple of new litter scoopers. *Pro tip – Don't open the chocolate until the day of the party when you're about to play.
Cat head template
If you don't fancy free handing your cat head onto the box then feel free to use this template.
I used the one size head on our poop toss game but in hindsight I think it may have worked better with different sizes to get different amounts of points.
Click on the image for the digital file.
How to make this kitten shower game
Depending on what kind of box you are using, you may need to tape up the edges/flaps (hate using that word 😹).
Paint your box in the colour of your choice. I found it looked better painted all the way around, but this is up to you. Ever the impatient painter, I used a hairdryer to dry the majority of the paint between coats.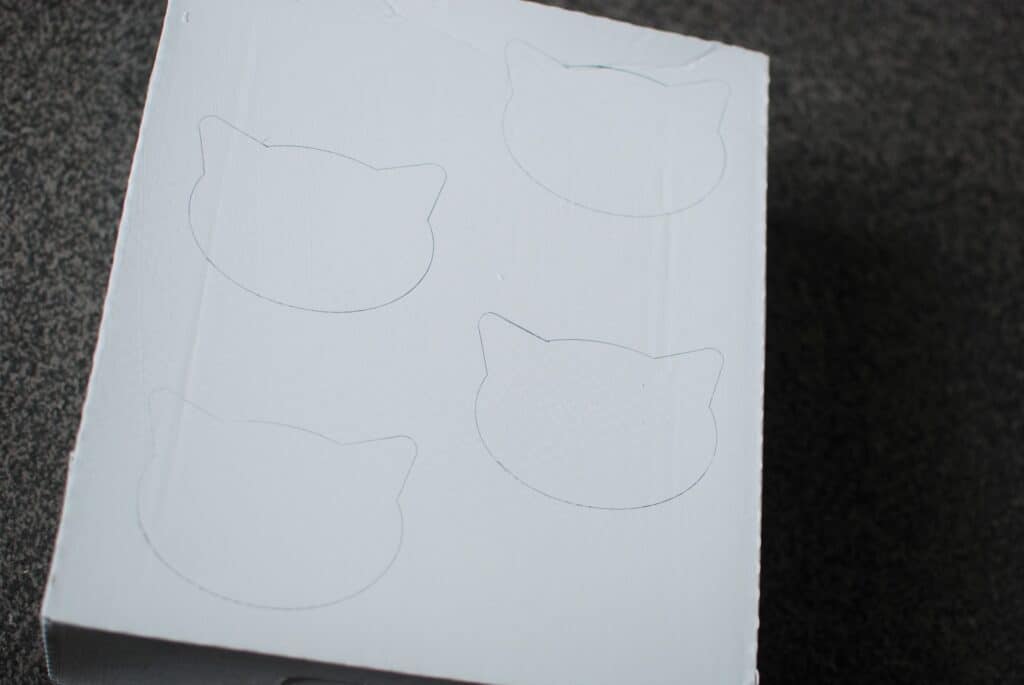 Draw on the cat heads. Once your box is fully dry, add your cat heads in the pattern of your choice. Don't be too eager to rush through this part, make sure your box is completely dry or the cardboard will not be strong enough to hold its shape when you cut through it.
Cut the holes. Ensure your blade is sharp in order to get a crisp line and prevent the cardboard tearing. Carefully cut out the cat heads and keep them to one side as I'm sure we can think of a use for them later.
Your kitten shower poop throw is complete!
So there we go, your kitten shower poop throw is all ready to play. I think it's only fair to add that's it's a good idea to buy an extra bag of 'poop' when you're out doing your party shopping. Unfortunately I ate almost all of the poop whilst taking photos and had to go out to buy more so my kids had a chance to play!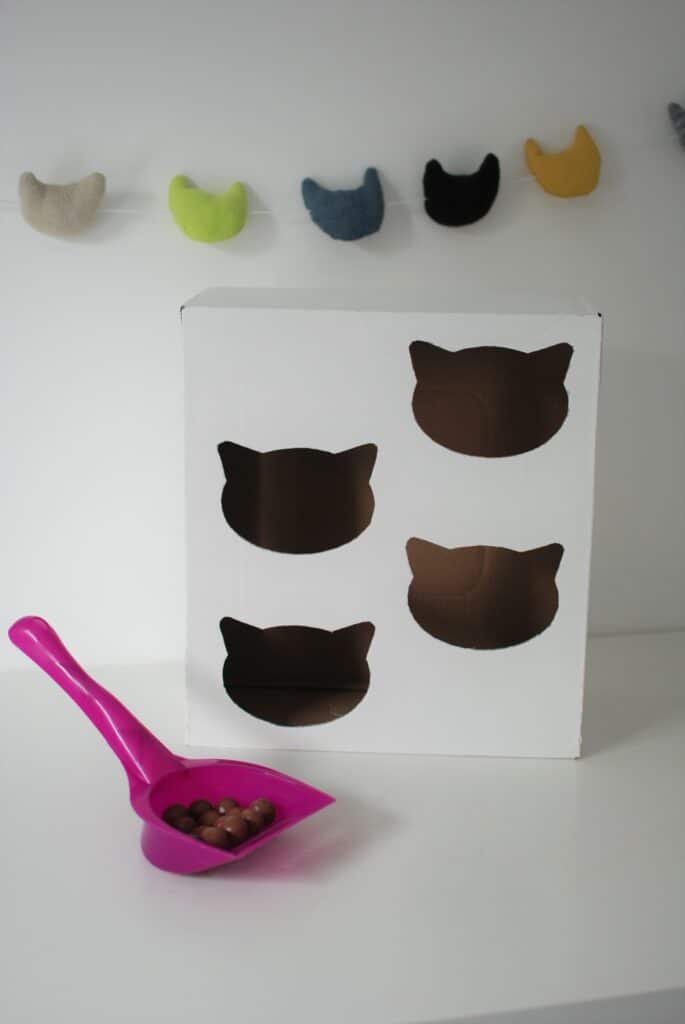 Want more cat party ideas?
Take a look at our guide to kitten baby showers if you'd like more ideas or if you're admiring the cat head bunting pictured, you can find out how to make that here.