Cat Christmas tree decorations DIY
My son has really been loving all my cat themed crafts this year. So I thought I would make something a little special for the Christmas tree he has in his room.
And YES! you better believe I made these little badboys well before Christmas so that I'd have them ready to shoot, write about and photograph just for you. (It was SO much fun).
Introducing my cat Christmas tree decorations!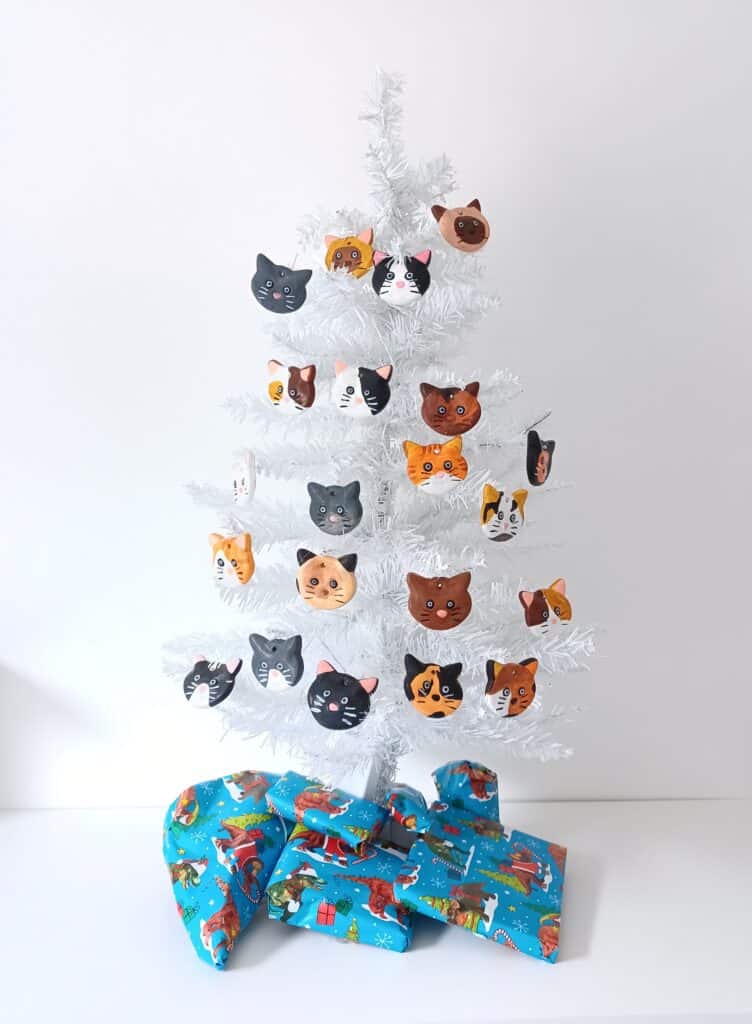 I really, REALLY enjoyed making these and I'm hoping they last us for years to come. And don't forget, a cat is not just for Christmas. These little cuties can be repurposed and displayed all year round.
So first off, how do we make these sweet cat ornaments? Well, you may be surprised to know that they're made from salt dough (or not so surprised if you've been to my blog before 😹).
How do you make salt dough?
I'll tell you. You'll need.
One mug of flour
Half a mug of salt
Half a mug of water
Please note that this isn't an exact science, you may need more or less but you'll know when you start making your dough.
*This post contains affiliate links, which means that if you love the products I found as much as I do and go on to make a purchase, I may get a small percentage. This is at no cost to you or the seller.
Yes ok, what else do I need for this cat craft!
Hold your horses please, a few other bits and bobs that you'll need are;
Paints
Paint brushes (ideally with little small ones for fiddly jobs)
Baking tray(s)
Tin foil/Baking paper
An oven
A straw or something to poke a hole
Your choice of top coats (scroll down for my pick)
Ok then, let's mix
Add the flour and salt together and give it a quick raz around to mix together. Then add the water and mix some more. You will have to use your hands to form the dough towards the end so if you're a bit of a priss and don't like getting your hands dirty then I'm sorry, I don't know what to tell ya.
Once the dough is nicely formed, it should be pliable and hold its own shape. Sort of like a play dough kind of texture. Then we're ready to make our cats.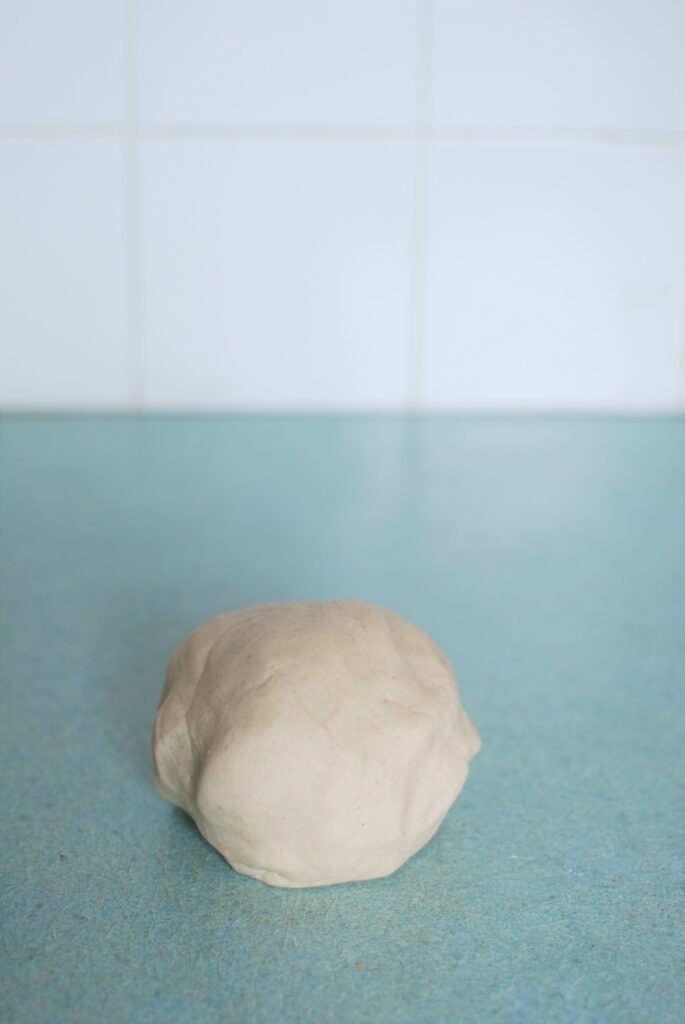 Warm your oven up to 165c.
Lay out your baking trays (or whatever flat surface you're using, sometimes I use my roasting tray). And add your choice of either tin foil or baking paper to the tops so you're ready to lay out your cats once cut.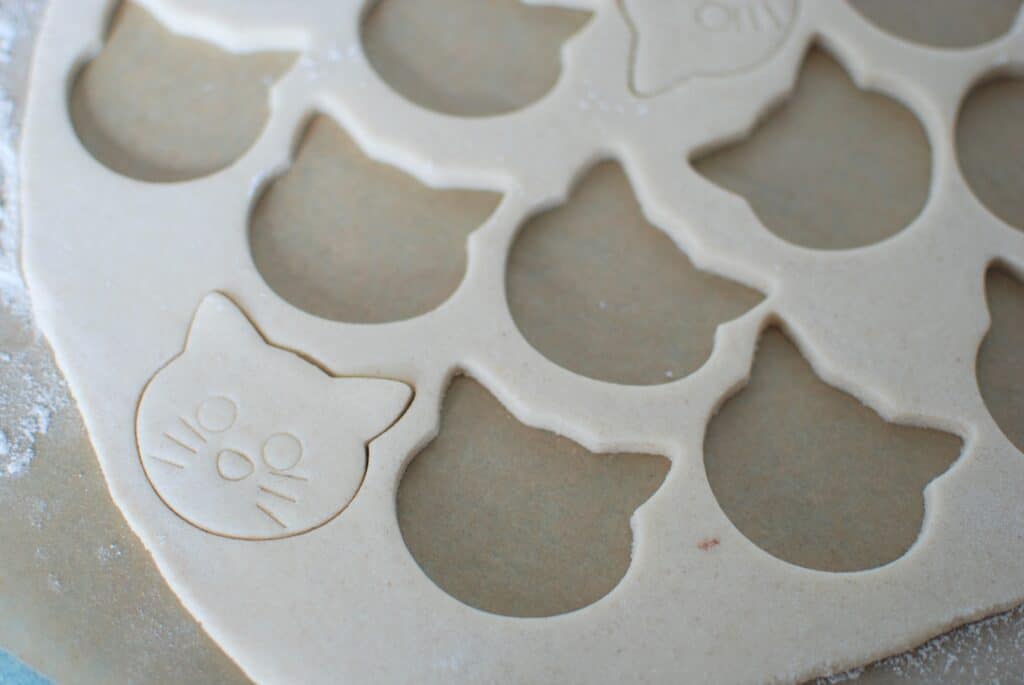 Roll out your dough to about the thickness of about 5mm, ensuring you do so on a floured surface (or it will just stick to that and you'll get mad). Then simply cut out the cats with your cookie cutter, taking care to keep their shape when transferring over to your baking tray. Then cut the hole for your ribbon or whatever you'll be using to attach to your tree.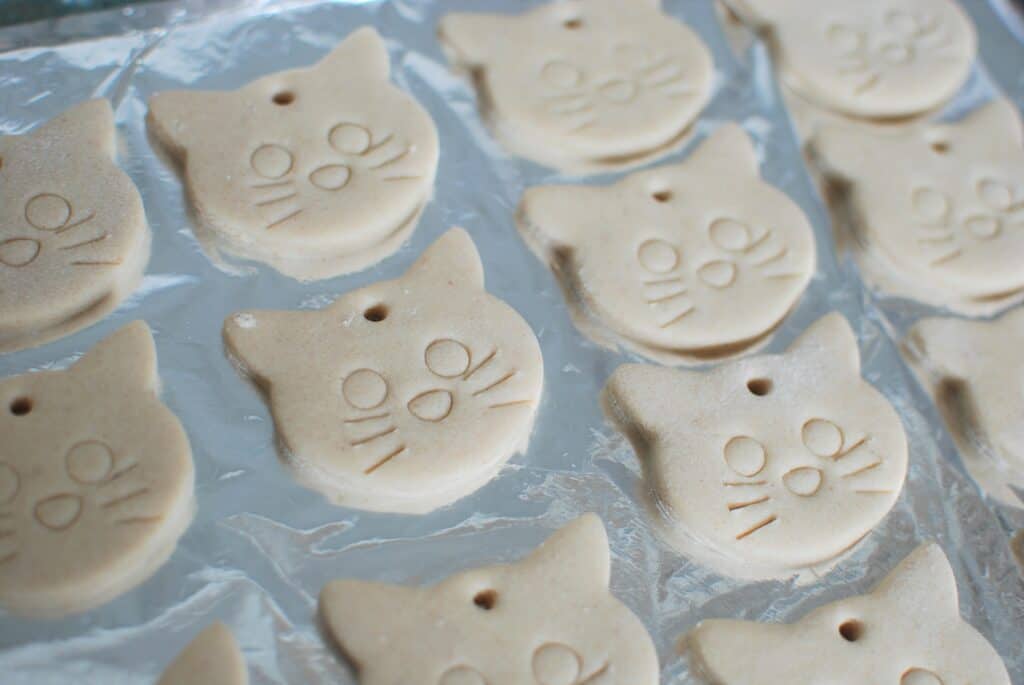 How long to bake the cats?
I baked my cats (ooof) for about 50 minutes in all, checking half way through to see how they're getting on.
Once they're finished baking, you're going to want to start painting straight away but you must wait you impatient little bugger!
I actually left mine to cool until the next day as, as always, I'm operating on stay at home mum time so it's not always easy to get everything done in one go! I'd say a good few hours in best, though. As long as you can as sometimes they can start to crack too and you don't want all your lovely painting skillz getting ruined.
So, let's get started painting our cat Christmas tree decorations shall we?
I painted my salt dough cats with matt white emulsion as a basecoat first so I could get better coverage with the acrylics.
This for me involved a lot of Googling to get ideas for different cat markings, but if you want to go freestyle it's up to you.
Here's a few ideas to get your creative juices flowing.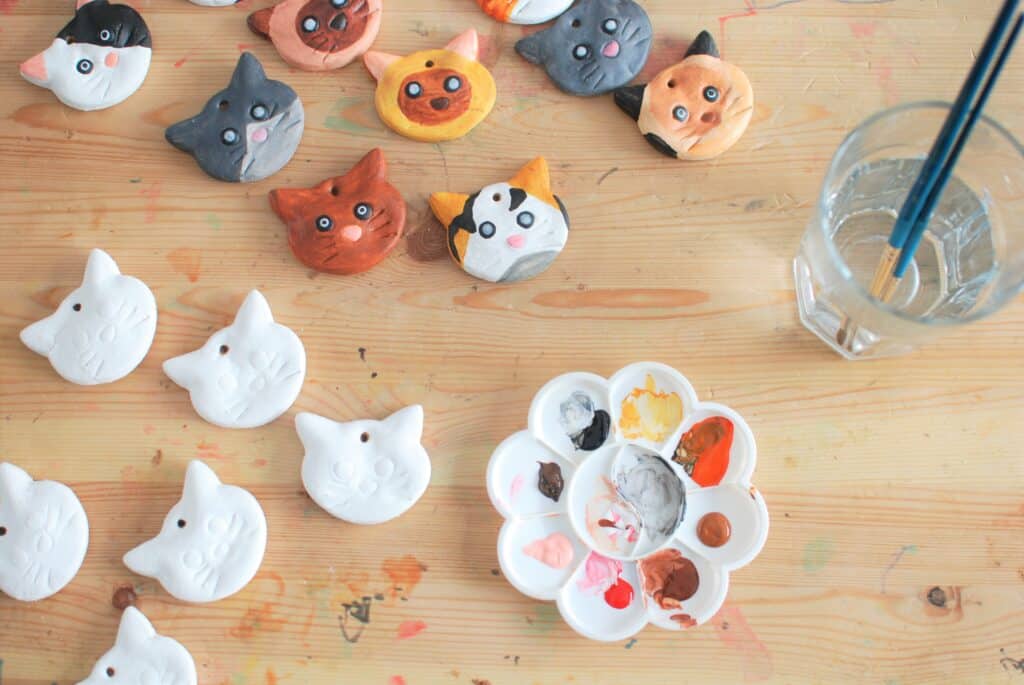 Once they were all finished, I did a topcoat of Paverpol which is my fave thing when finishing projects like this, it's quite pricey but it last a looong time. But you could use your preferred top coat (PVA, Modge Podge, varnish etc.) or just leave them as they are.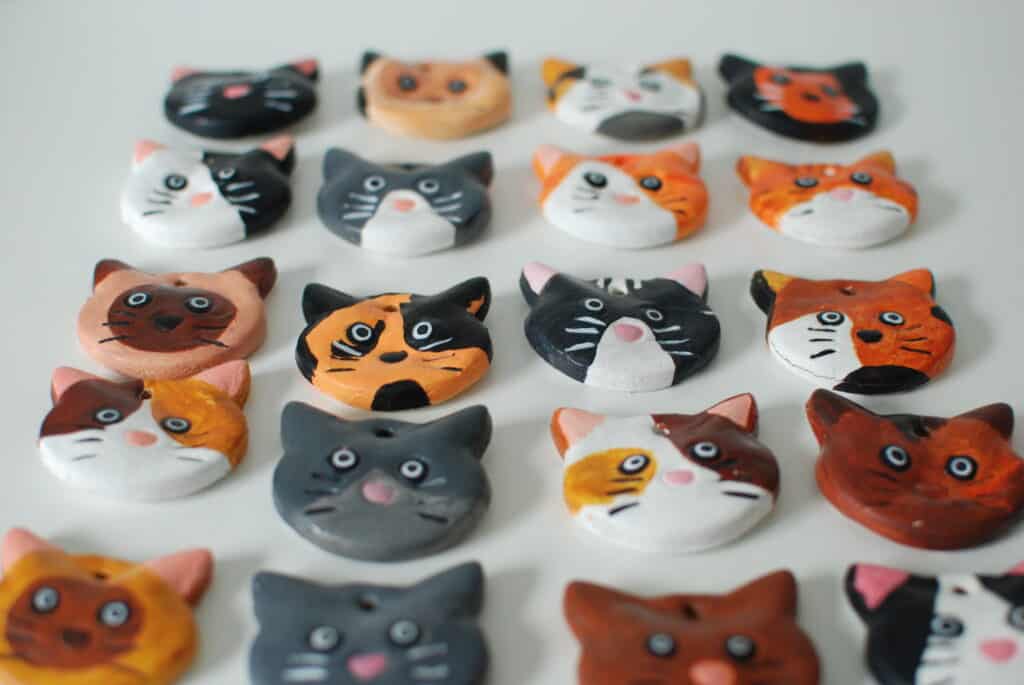 You can either get some nice string or simply thread them onto the branches of your tree if you're able.
I think these cat Christmas decorations would also make a great Christmas present for a cat lover, you could set them out in a fancy box and really score those brownie points!
I do hope you've enjoyed making this project. Please tag me on the Koro Cinco Cats Instagram page with your designs 😻⭐
Want more cat themed craft projects?
Take a look at our latest makes below.