Embroidery for mental health
Three years ago, a mere 36 hours after my youngest son was born, we very nearly lost him. I don't talk about it too much now as it still stings too heavy, but please know that he is doing great! Myself however, from time to time, not so much.
I developed PTSD shortly after we came home from hospital and although on the whole I am doing well three years later, there are two main triggers that can set things back. His birthday and him crying.
I've found over the last couple of years that distraction is my biggest friend.
But how do you distract yourself from yourself?
Projects and crafts are my go-to. Something to channel that toxic energy into that actually ends up becoming something positive.
My son's birthday this year was bookended by massive triggers. He'd been going through some sort of sleep regression that left him constantly tired, clingy and tearful throughout the day. He'd also developed a medical issue for which we had to have blood tests and a referral to the hospital where he had his life-saving surgeries.
This was a lot for me and I was starting to get some of the physical symptoms that my PTSD was shit enough to gift me.
But embroidery helped dampen my PTSD relapse
I needed a distraction, and quick. I'd already ordered an embroidery kit as it was one of those things I'd like to try my hand at and with it being cat themed, it was right up my street! So out it came, and I picked it up every time I needed it. I needed it a lot, I actually managed to crack out this badboy in less than a week whilst Mumming/Houswifing/Working etc!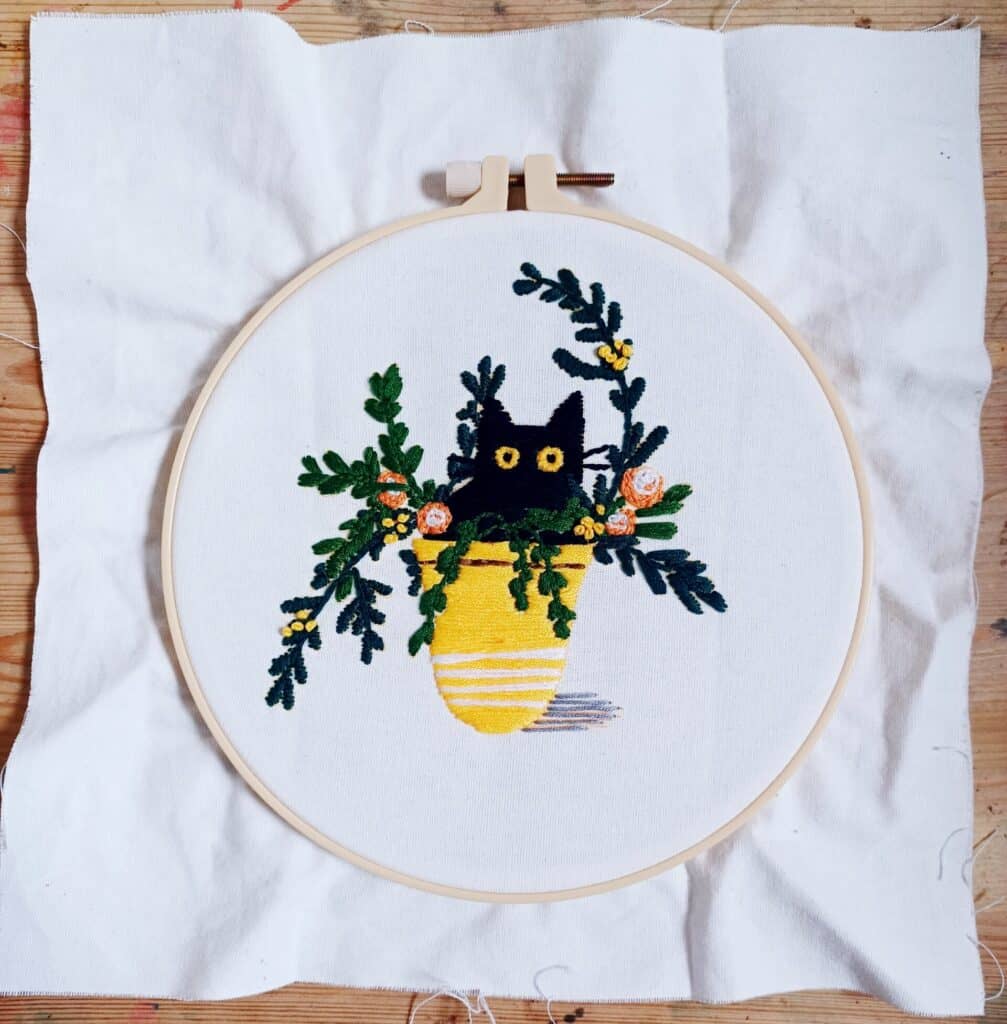 How does embroidery improve your mental health though?
The act of embroidery, or indeed anything that you find creative and interesting can help to promote healing and better mental health by, amongst others;
Alleviating stress levels
Giving your mind something to focus on
Gaining/improving your skill level
Promoting relaxation throughout the body
Enables you to switch off/have an escape
Promotes mindfulness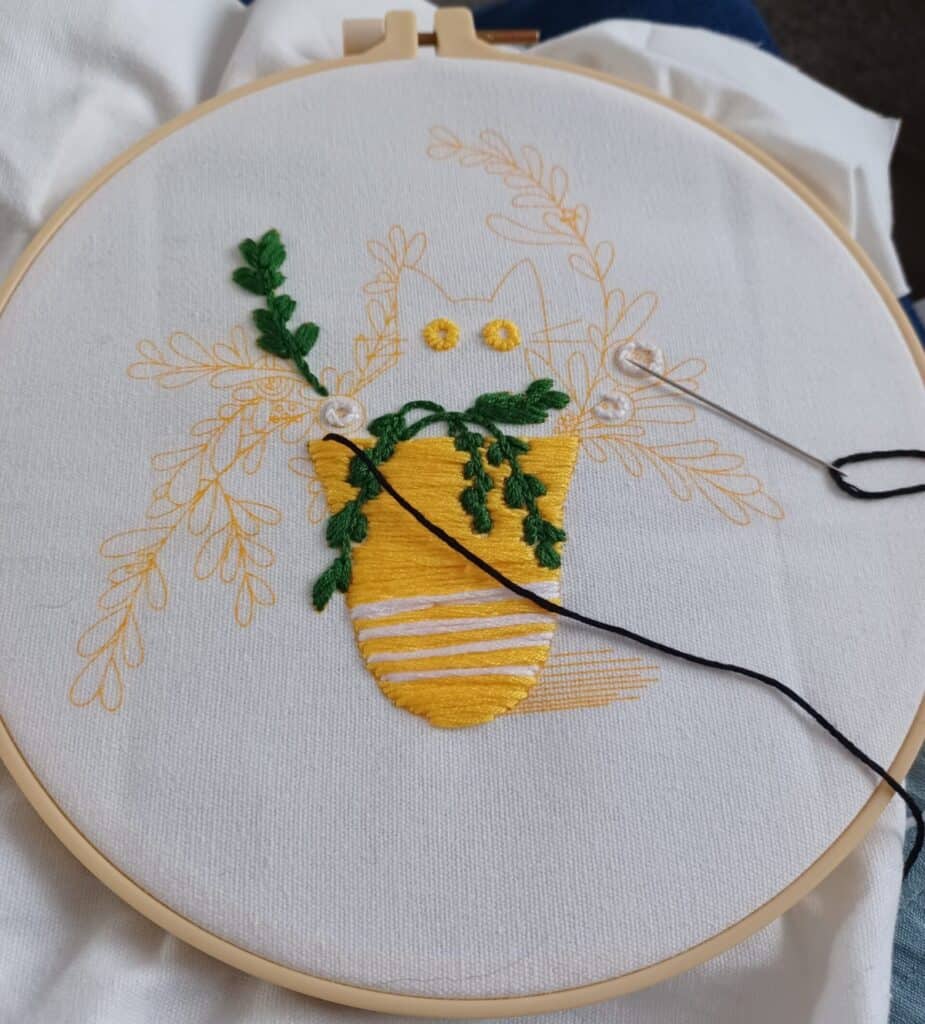 I don't know how to explain how grateful I am that this worked.
It's really hard going about your normal day when your mental health is suffering. The thing about PTSD is that it comes with a lot of physical symptoms too. Which often results in the sufferer becoming frozen and stuck, unable to focus on anything that is going on around them. This is an absolute nightmare, especially if you're trying to look after young children and carry on with all the other things adulting entails.
I feel like with the embroidery, I just poured it all out. I found a really interesting article about WW1 veterans and how they used embroidery, amongst other crafts, as a form of therapy. There is a stunning example of their workmanship in the St Paul's Cathedral in London.
There are many, many articles online promoting the benefits of embroidery for mental health. If I hadn't stumbled on this accidentally I wouldn't have known, so I do hope that if you're having a hard time at the moment that you decide to give it a try, too.
Where can I find embroidery kits?
Of Course, I was only looking for cat themed embroidery kits when I was searching but here's a selection of my favourites. The one I completed is no.2 and I also have no.1 which is waiting to be started too 😻
*This post contains affiliate links, which means that if you love the products I found as much as I do and go on to make a purchase, I may get a small percentage.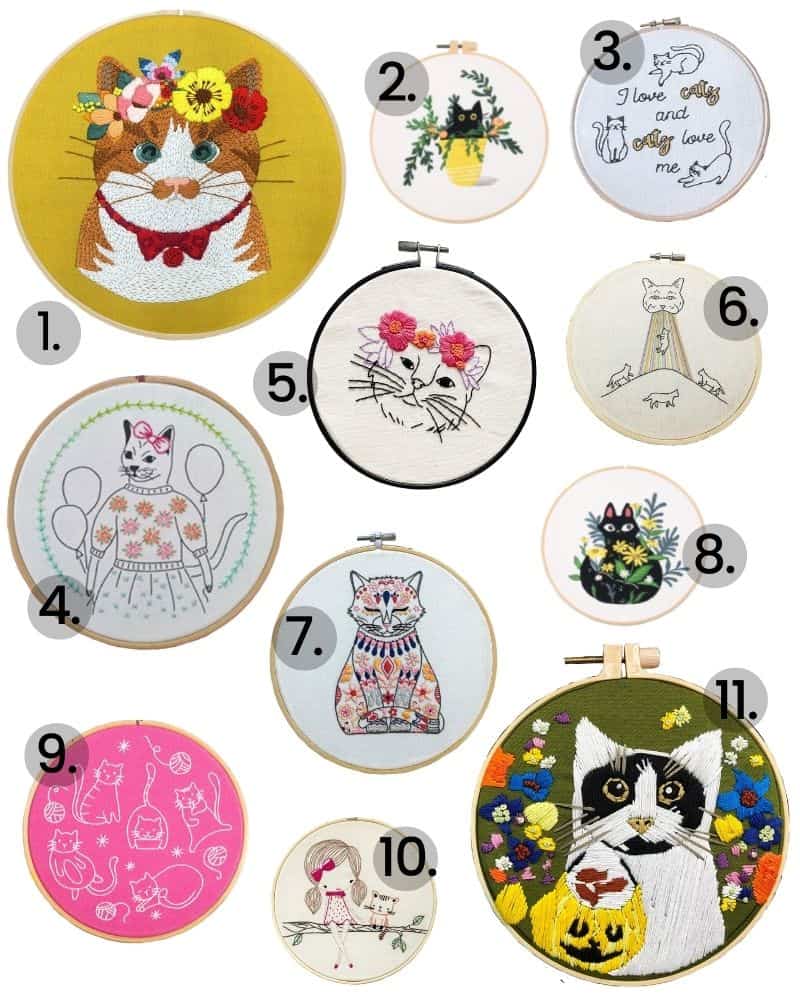 More creative ways to improve your mental health
If you're not sold on embroidery then why not check out my other craft and project ideas.
There's some great help and advice here at the Mental Health Foundation.
NHS information and support can be found here.
Please note that whilst I am giving my personal experiences with PTSD and mental health in general in this post, I am not a Healthcare Professional and should you need help please access the services available to you. These are my own views and findings within this article and are not intended to replace any medical advice.
Take care. X