A guide to kitten baby showers: How to make them paws-itively perfect
Throwing a kitten baby shower is becoming more and more popular recently, so I thought I'd investigate and find out what all the fuss is about.
So what is a kitten shower?
A kitten shower is exactly as it sounds (but it's not giving your cat a wash). They are pretty much the same as the traditional baby shower that you're probably familiar with, but guess what…..
It's for cats!

A kitten baby shower is a great way to welcome a new kitten or cat into their new home. This can be for any reason.
Adoption
Foster fail
Your existing cat is expecting or just had a litter
And of course it's not just limited to kittens, us cat lovers like to welcome cats of all ages into our feline friendly homes. So whether your new best friend is brand new to the world or you're taking on an old timer, holding a cat shower is a purrfect way to welcome your new cat.
You will still be decorating your home and inviting guests, providing party food and games and also expect to get gifts for the new addition in your life.
This post contains some affiliate links. This just means that I may get a commission on any sales made from links on this page and this is at no extra cost to the seller or you. Win/win/win.
How to throw a kitten shower
Pick a date, time and venue (usually your home)
Decide on your guest list and send out invitations
Think about decorations
Will you be playing party games
What foods would you like to offer
Picking the purrfect day and sending your invitations
As with all parties it's important to try and find a time when the majority if not all of your guests will be able to make it. Try and give people enough time so they can shuffle anything around they need to, in order to make it.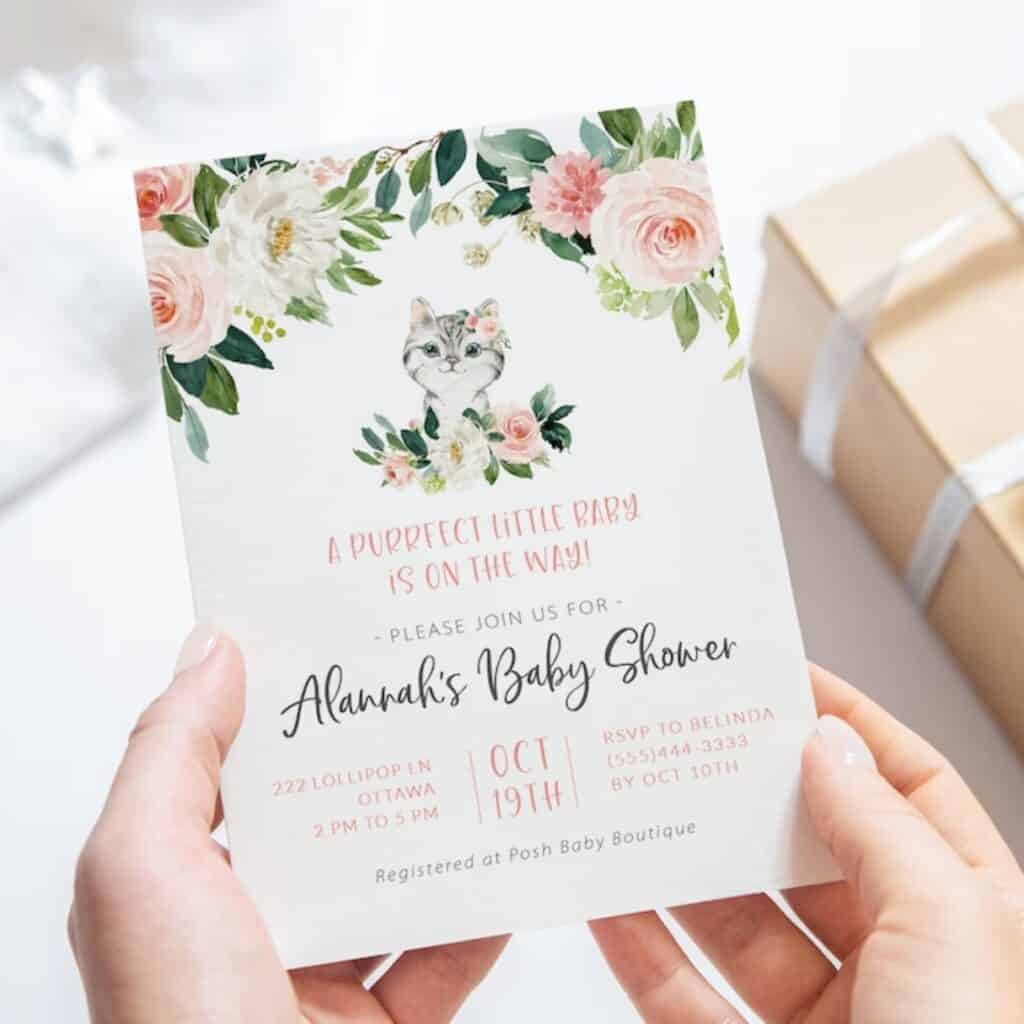 I found the most adorable kitten shower invitation over on Etsy but of course you could make your own using something like Canva, they have some great clipart over on Creative Fabrica so if you're crafty then check those out.
How to decorate for your cat shower
Just like you would with a human baby shower, why not go all out for your kitten or cat baby shower too.
There are SOOO many cat themed party decorations about these days, ranging from cat head bunting and banners to cake toppers. You can even find kitten tablecloths with matching party tableware so there's so many ways you can decorate for the big day.
Kitten shower party game ideas
It doesn't take much to turn the usual games we play at parties into cat themed activities. So if you're looking for some fun and paws-itively perfect games for your kitten baby shower, here are a few ideas to get you started:
Pin the tail on the kitten Draw a large picture of a cat on a piece of cardboard. Make tails out of paper for the guests to pin on the cat whilst blindfolded.
Litter box toss Use a cardboard box with holes denoting different point scales cut out from the side. Provide litter box scoopers (unused 😹) for your guests and use chocolate balls to throw into the box with the scoop. See who can get the most "poop" in the targets and score the highest points in a set amount of time.
Piñata Purchase or make a cat piñata (although I'd feel a bit weird about smashing it up😹)
Name that cat! Print out pictures of famous cats from movies, books and TV and your fave influencer cats. Points are awarded to those who can name the cats.
Cat cookie decorating contest Provide cookies or plain biscuits and a few icing pens, sugar eyes etc. and have your guests decorate them. Any that are left over at the end can either go in your cat themed party bags or be given as prizes for the games winners.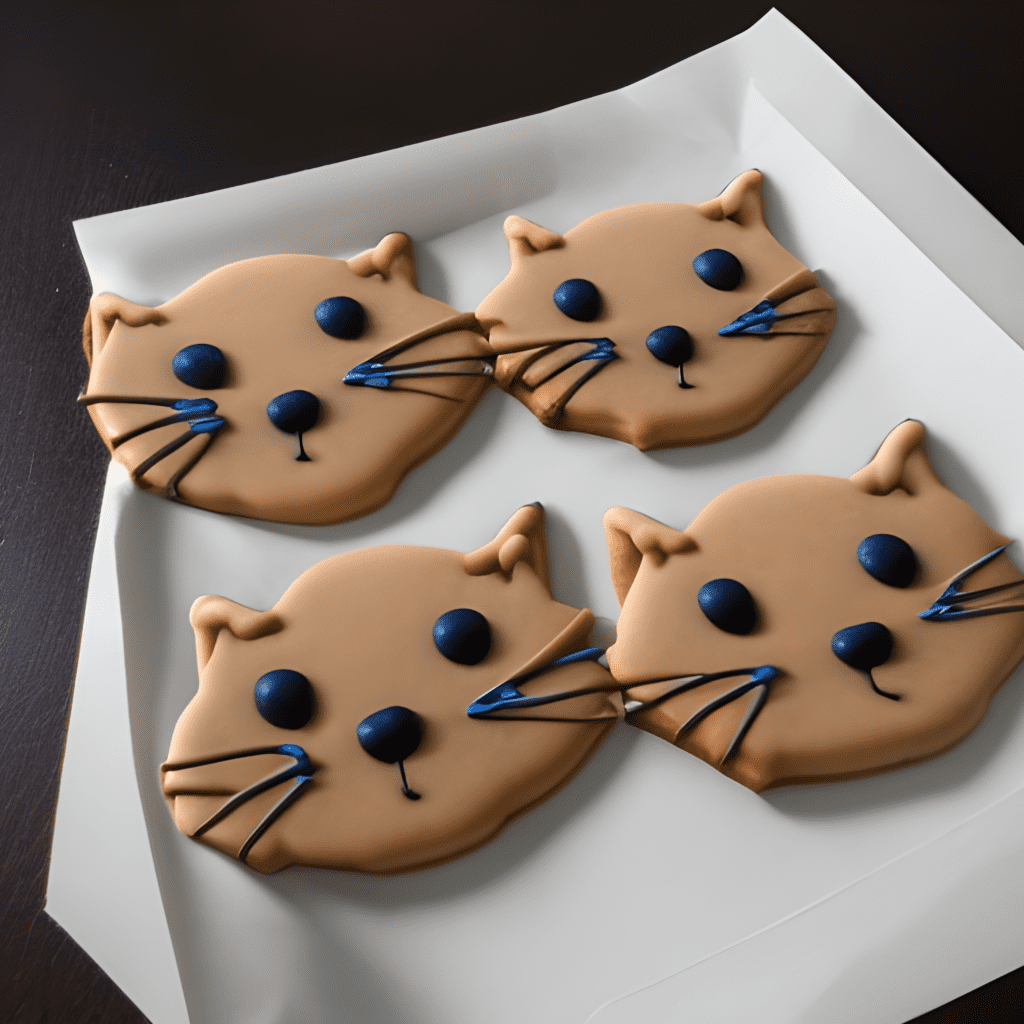 Calculate the chonk Have your guests guess the weight of your fur baby.
With any of these games, be sure to have prizes on hand for the winners. Some cute kitten themed items such as stationery, sweets or trinkets will do the trick! I found some cat tattoos that your younger guests will enjoy (although I'd defo wear one myself, too!)
What food to serve at a cat shower
And so to the food and drinks. If you're wondering what food to serve at your kitten shower, it's pretty much the usual type of finger food and buffet that people love best. Keep the drinks simple, juice, fizzy drinks and the like. Your guests aren't there for a boozy party (unless that's the plan!) so no need to splurge too much.
Nobody wants (or will be expecting) a three course meal here. Let's be honest, your guests are only really there for some cat snuggles! Don't stress out too much about laying on a banquet. With a few simple tweaks you can turn an ordinary spread into a cat themed extravaganza.
Add cat themed cake toppers to your cupcakes
Make your food more themed with cat cookie cutters
Decorate the food table with cat partyware
Use cat or kitten napkins on your plates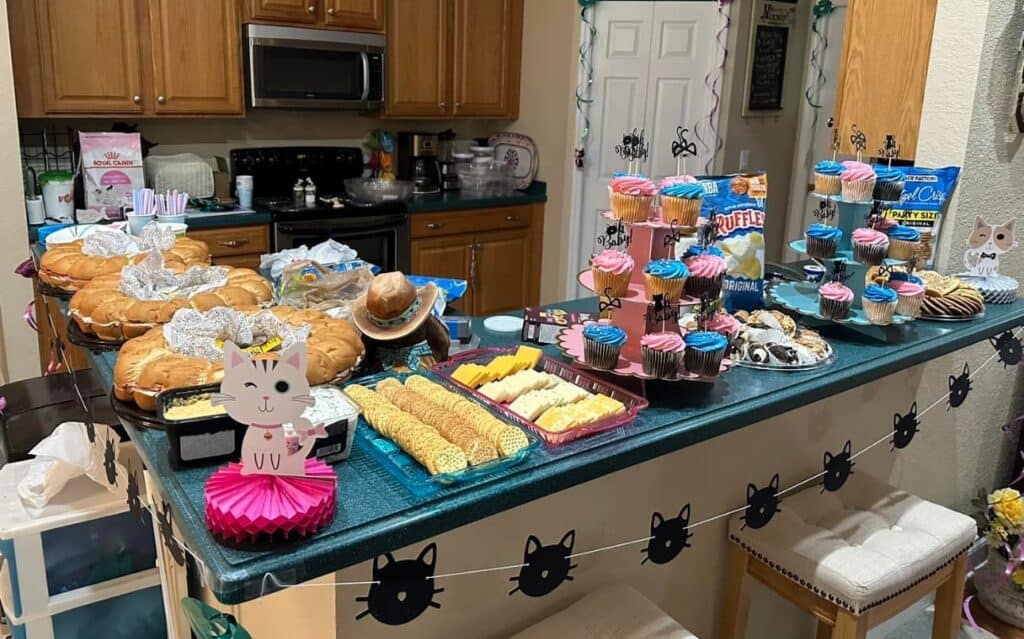 A lovely lady from one of the cat groups I'm in recently shared the kitten shower she had thrown for her new rescue cat and her babies. MEOW! That's a party I would definitely attend. Just look at all those treats and scroll down to see the new additions 😻
The guest/s of honour
When it comes to hosting a kitten baby shower, there is one main element that must not be overlooked – the guest of honour.
Whether your shower is for kittens or older cats, it's important to consider how your cat may react to the hustle and bustle of extra people in your home. Older cats enjoy the routine of their day and have established areas of the home that they consider their safe spaces so it's important that these areas aren't disrupted.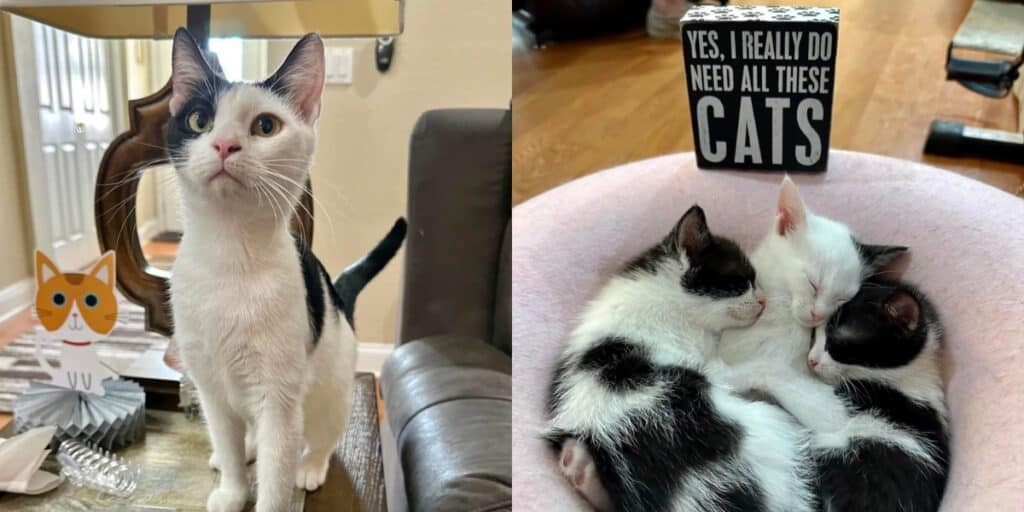 Ensure your guests are familiar with how to handle a cat and pay extra attention if children will be attending the get-together. Children love cats and are amazing pet owners but sometimes, especially with younger kids, they tend to forget that they're a living thing and not a toy.
If your new addition is a kitten then perhaps you could set up a little kitten play area complete with toys and a scratching post.
I've been invited to a kitten shower, what gift should I bring?
Of course, no baby shower is complete without gifts! When it comes to kitten baby shower gifts, there are plenty of options to choose from. You can get creative and make your own cat toys, or you can purchase some pre-made ones. You can also give useful items like food and litter, or you can opt for something more unique like a cat bed or scratching post.
It's a good idea to check with the new cat's purr-ents to see if there's anything in particular they need or perhaps they would prefer donations to their cat shelter etc. Sometimes the host will also add their wishes to the shower invitations.
Let's get the pawty started!
So there we go, I hope you enjoyed learning about kitten showers and by following these tips, you're sure to throw a paws-itively perfect celebration. Planning a kitten baby shower is a great way to welcome a new fur baby into the family. So when the time comes for your next fluffy family member, make sure you celebrate the magical occasion!
I'd LOVE to see your parties so feel free to post them on our Koro Cinco Cats Facebook page.